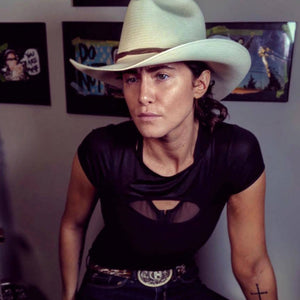 Grace Askew
Grace Askew is a sixth-generation Memphian and a highway child. With seven studio albums and nearly a decade of touring under her belt, Askew has established herself as a relentlessly creative artist and a powerhouse of talent.
Growing up to the humming lullaby of the nearby interstate, she fell asleep to dreams of all the places she too would travel to one day.
A professional road warrior, she mostly hits the road accompanied only by her truck, Wanda, but she has also supported legends like Hayes Carll, Ray Wylie Hubbard, James McMurtry, Lisa Marie Presley, Marty Stuart, Paul Thorn, Jesse Winchester, Colter Wall, the late Delta bluesman T-Model Ford and Leon Russell.
She is an internationally recognized tunesmith, who has twice placed first in the International Songwriting Competition, first in the Unsigned Only songwriting competition, as well as first in the John Lennon Songwriting Contest. Her first records were recorded at Memphis, Tennessee's legendary Ardent Studios & Sun Studios. With a Faulknerian Southern-Gothic storytelling style, her lyrics weave vivid imagery of a life lived with authenticity and grit, always paying homage to her Delta roots.
The rough-around-the edges, and righteously primal sounds of her slide resonator guitar, bellows, stomps, claps and hollers will leave you baptized by the Blues and grounded in the truths of an old-soul. There is a delivery and phrasing that is all her own with every performance and, no doubt, Grace Askew's unique, sultry, powerhouse of a voice will help her writing stand the test of time.
Her television appearances include PBS' Sun Sessions, and she represented Team Blake Shelton on the fourth season of NBC's The Voice. Since Jan. 1, 2018, Askew has written and live-streamed a new original song daily for her loyal Facebook and Instagram followers. The daily songwriting challenge will continue through 2020 until she has 730 songs in 730 days. The social media performance series has featured collaborations with various songwriting legends and Askew stalwarts, including Joe Leathers (Guy Clark, Kenny Chesney).
Her songs have even caught the attention of brands like Stetson, Wrangler, and Tecovas Boots, all of which have signed her on as a model/spokeswoman. "Astoundingly defiant." -- Spin "Badass." -- Yahoo Music "Raw, real and righteous." -- Rolling Stone "...one of the most prolific songwriters ... A Bobbie Gentry incarnate who is also the first of her kind, Askew is Dolly Parton-level creative." -- CMT.com